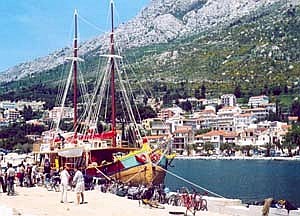 The popular "bicycle.boat" takes you from one island to another - so the cyclists discover every day a new interesting area! During the week we live on the boat - you eat there (twice a day), sleep, drink and so on.
Months as July and August are too hot for cycling.
This tour is organized for our cycle club, so you enjoy it together with Czech cyclists.

The tour takes one week - from Saturday to Saturday. We will partly follow the central route and partly the southern, incl. Dubrovnik. Our port - place where we start and finish - is Baska Voda near Split.
The crew incl. the captain and cook (and meal, of course) are Croatian. One guide speaks Croatian, another English. Both are Czech nationality.